Are you getting tired of waiting for Friday to roll around? You're not alone! By the time Thursday hits, sometimes we just need to kick back with a cold drink in hand. Especially now that the sun's out. If you get off work on a Thursday and you're in need of a drink, here are 10 places perfect for the occasion!
Moscow Tea room 527 Sussex Dr
Photo cred: djkiwi.wordpress.com
This is an awesome place to check out on any day of the week, but Thursdays are extra special. Why, you might ask? The answer: Martinis! Every Thursday they have Martinis on special for only $5 all day long. The decor is a wonderful combo between fancy and comfortable, and they also serve coffee, tea, cocktails, and small plates. It's a great place to catch up with friends, or to take a date.
Real Sports Bar & Grill 90 George St
Photo cred: www.wingd.ca
If you're a fan of sports bars and pub food, you're going to be a big fan of this place! They've got TVs everywhere you look, 80 beer taps, 15 wing flavours, and 11 mouthwatering gourmet burgers. It's always great vibes and wonderful service! If you want to swing by on a Thursday to watch the game or just have a drink, this is a great option. You will want to take advantage of their "Throwback Thursday" deal where you receive $5 tall cans on Molson Pilsner and a $20 chicken, ribs, and fries combo. Eat and drink without breaking the bank!
Cornerstone Bar and Grill 92 Clarence St
Photo cred: www.cornerstonebarandgrill.ca
Listen up, ladies! Every Thursday this trendy bar hosts Ladies Night with killer drink specials you can look forward to every week. Located in Ottawa's historic Byward Market, this contemporary bar is an awesome place to hang out and indulge. It only gets better in the summer as it features a massive wrap around patio. The food is delicious with a hint of fusion and creativity. Grab your gals and head to the Byward Market for an evening of drinks on a sunny patio.
Crazy Horse 115 Roland Michener
Photo cred: www.tripadvisor.ca
Ottawa's own country bar is always a great option to throw back some drinks and unwind from a day of work (or a day of anything, really). There's a ton of live events and specials to take advantage of, Thursdays in particular! Every Thursday starting at 4pm you can buy a jug of beer for only $12.99 and a pound of wings for $4.99. Two step, ride the bull, drink some beer, and eat some chicken wings (just try and do those things in a responsible order).
Time Out Bar and Grill 3094 Carling Ave
Photo cred: www.yelp.ca
If you're looking to take a time out from your busy schedule, this is always a good choice! Swing by and play pool, drink beer, and eat some delicious bar food. Thursday is karaoke night, so drink some liquid courage and jump on stage! On Thursdays you can also order pizza for only $10 and $7.49 mini pitchers of domestic beer.
Mill Street Brew Pub 555 Wellington St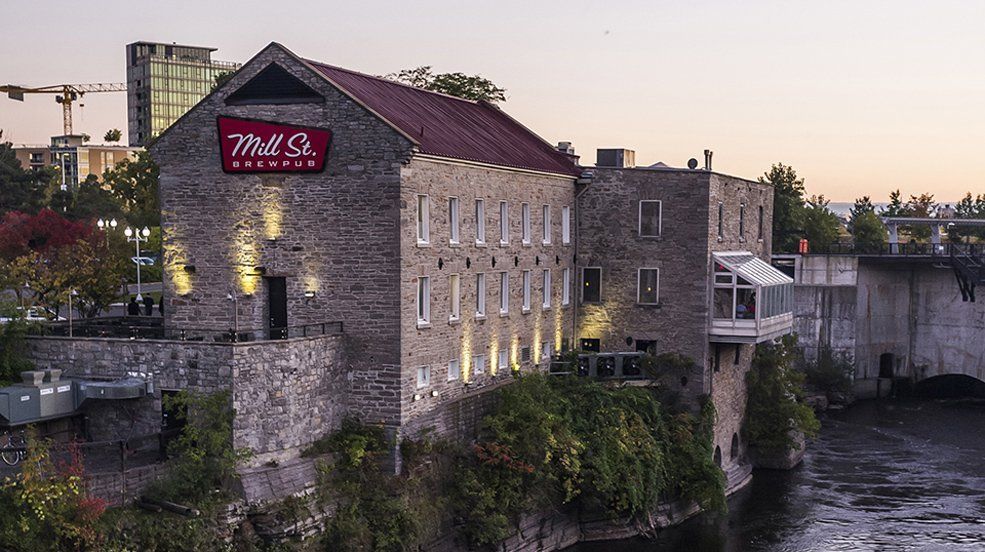 Photo cred: www.ottawatourism.ca
Located in a stunning old mill building along the Ottawa River, Mill Street's second Brew Pub in Ottawa is a must-visit. You will find a selection of seasonal and specialty beers that can only be found at this location. It's gorgeous and unique on the inside, and you can sample different food pairings with their beer selection. Thursdays at the Brew Pub are extra special because it is "Cask & Cheese Thursday." On Thursdays from 6-9pm you're invited to a complimentary sampling of seasonal beer with cheese pairing courtesy of the Cheese Boutique, and then live music begins at 7pm. If you love beer, this is somewhere you need to check out!
Zaphod Beeblebrox 27 York St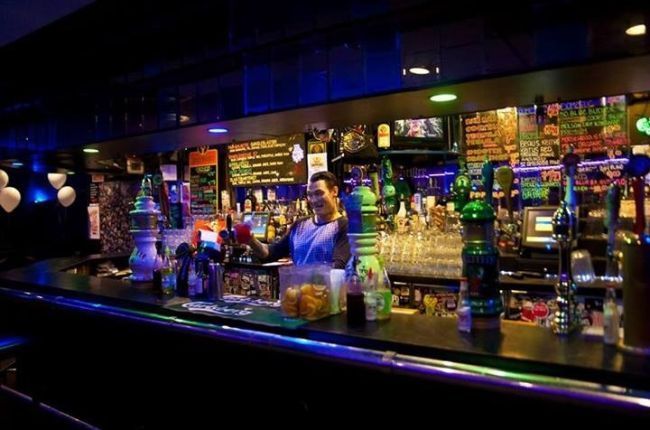 Photo cred: clubzone.com
This upbeat music venue is great if you're looking to take in some live music and hit the dance floor. On Thursdays the feature "4Play Thursdays," where you can get $4 domestic beers and $4 bar rail. There's also NO cover! It begins at 11pm and there will always be an exciting performer for you to check out. They feature a number of exotic cocktails, and you'll love the atmosphere. It's intimate, lively, and good natured.
The Buzz Restaurant & Lounge 374 Bank St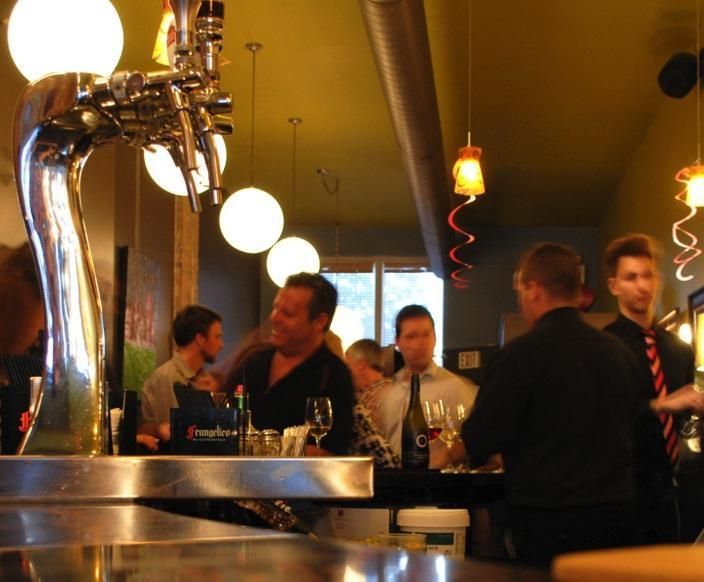 Photo cred: clubzone.com
This quaint bistro hosts a wonderful atmosphere, delicious high-end bistro dining, and a full bar. Their lobster ravioli is insanely good. It's definitely a good idea to spend a Thursday evening here because it's Mojito Night! They have 6 delicious mojitos to choose from for only $6 each (regularly $9.50). The staff are friendly, it's a very cozy setting, and you'll really enjoy the food and drinks!
Fat Tuesday's New Orleans Experience 62 York St (new location coming soon: Kanata Centrum Shopping Centre)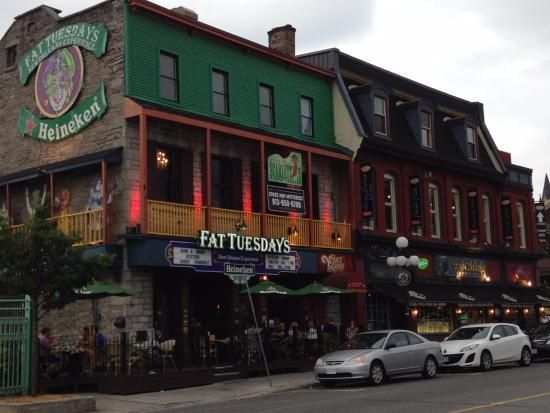 Photo cred: clubzone.com
Fat Tuesday's has recently said goodbye to the ByWard Market, and is moving to a new location at the Kanata Centrum Shopping Centre this spring. But we just couldn't let this place fall through the cracks! If you're looking to step out of Canada and into New Orleans for a night, here's your chance! They've got delicious Cajun food, live music, and a whole lot of booze! Come and grab some grub while sipping Cajun Caesar. Guess what? On Thursdays they serve buck-a-shuck oysters! Yep, oysters for only $1 each. Make sure to check out their website for updates on their special events and for details on their big move.
James St. Pub 390 Bank St
Photo cred: www.ottawafood.com
Ah yes, James St. Pub. This is a perfect place to relax, watch a game, drink on the patio, and just kick back. It's a comfortable atmosphere with great service and a friendly clientele. You can expect a lot of beer and some delicious pub food. Every Thursday you can get $20 buckets of Labatt 50, Bud, or Bud Light AND there's live music! If you end up staying longer than expected, they also have a late night food menu from 10pm-1am where you get the classics: fried pickles, wings, nachos, pulled pork poutine, the works.